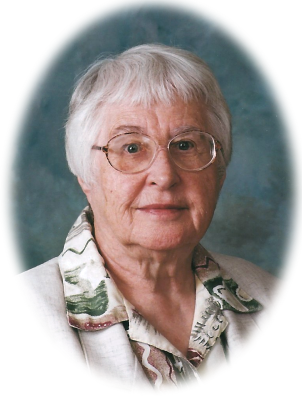 Sister Almira Randall, OSB, age 90, died June 3, 2015, in St. Mary's Medical Center Hospice, Duluth Minnesota. She was a native of Duluth, Minnesota and born to Leslie Irving and Millicent (Despins) Randall on December 6, 1924. Sister was in her sixty-ninth year of Monastic Profession.
The eldest of six children, Sister Almira entered St. Scholastica Monastery in September of 1943. She professed her Triennial Vows on July 11, 1945, her Perpetual Vows on July 11, 1948. Sister celebrated her Silver Jubilee in 1970, her Golden Jubilee in 1995, and her Diamond Jubilee in 2005.
Sister Almira began her superb ministry in Elementary Education at St. Gertrude's School in Washington, D.C. as a teacher and prefect from 1946-50. From there she taught at Blessed Sacrament School in Hibbing (1950-55); St. Bridget's in Minneapolis (1955-59); St. Mary's in Pine City (1959-64); Holy Name in Wayzata as Principal and teacher(1964-67); St. Bridget's School (1967-69); Sacred Heart Cathedral in Duluth (1969-70); and St. Jean's in Duluth (1970-87). Sister also earned a Bachelor of Arts in Elementary Education from The College of St. Scholastica and a Master of Arts from the College of St. Thomas in Elementary School Guidance.
In 1975 Sister received the Presidential Award for Outstanding service to Catholic Education in the Diocese of Duluth from the National Catholic Education Association. "I love little kids and I love language arts," declared Sister Almira. "I never cease to be amazed at how first graders can come here with nothing, and after just a few months, they can read and write stories."
Sister was appointed House Director at the Monastery during the years 1987-94. Also she was a staff member of the McCabe Renewal Center (1995-2010) where she served in the kitchen, especially baking bread and pastries. Sister Almira loved indoor gardening and filled much of the monastery with her beautiful plants, especially orchids. She loved her life as a Benedictine Sister: "There is peace in life lived with my Sisters in this Benedictine family—peace in knowing that I am where I belong."
Sister was preceded in death by her parents, her sisters Mary Ellen Parker and Lois Socha, and her brother Irving. She is survived by the Sisters of St. Scholastica Monastery, her beloved sisters Patricia Tamayo and Irene Randall, nieces and nephews, and many dear friends. Morning Prayer/Wake Service, with sharing of memories, will be held on Thursday, June 11, 2015, at 9:30 a.m. in Our Lady Queen of Peace Chapel with the Mass of Christian Burial following at 11:00 a.m. with Father Brian Schultz presiding. Interment will be in Gethsemane Cemetery. Memorials to St. Scholastica Monastery are preferred. Arrangements are by Dougherty Funeral Home.